Massachusetts Animal Coalition
Special License Plates are Available from Registry of Motor Vehicles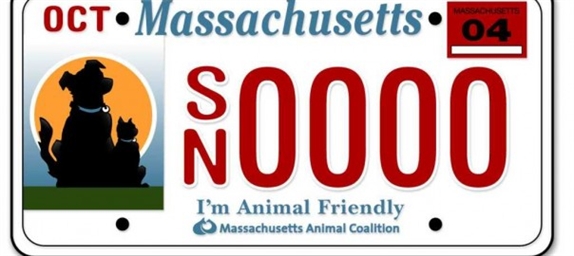 Use your license plate to tell other drivers that you care about animals while providing funds to address stray animal spay and neuter efforts.
The Massachusetts "Animal Friendly" license plate is now available for purchase in Registry of Motor Vehicles branches and online. Funds collected from sale of this license plate will be awarded to non-profit humane organizations and municipal animal control agencies in the Commonwealth to be used to prevent pet overpopulation by funding programs that provide services such as spaying and neutering to cats and dogs for free or at minimal cost. The Massachusetts Animal Coalition (MAC) will disburse funds through a grant process. This license plate program has been a huge undertaking and is the culmination of many years of legislative and organizational work. It is a major accomplishment for animals in Massachusetts.
To order your plate online, visit Mass RMV. Click on "Order Special Plates" in the right-hand navigation and follow the prompts. The initial cost of this Animal Friendly license plate is $40, of which $28 will be used to help fund this statewide spay/neuter program. The remaining $12 is a one-time only cost to cover the manufacturing of the plate. Total fees include Initial Registration Fee of $50 and Special Plate Fee of $40; the Renewal Fee is $90 every 2 years. Upon renewal, the entire $40 will go to this spay/neuter program.
If you would like to get your plate from a Registry branch, you would be well served to have the paperwork from the website nonetheless.
Any questions about this program can be directed to licenseplates@massanimalcoalition.org.