Back to Products & Services
1/2 Page Ad in MVMA Newsletter + E-Newsletter Combo
MassVet News Advertising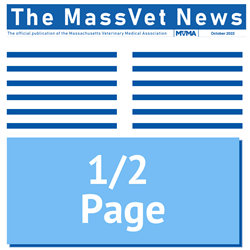 Print and E-Newsletter Combo - Discounted rate for FULL YEAR purchase $2,800 ($3,000 value)
Includes 1/2 page ad PLUS clickable logo in our E-newsletter for a full year.
1/2 Page (Horizontal) 7.5" wide x 5.0" high
*Specs: 300 dpi, JPG file, full color
*Ads print in black and white but appear in full color on the digital version.
Advertising with the MVMA means your information can be seen by over one thousand veterinary professionals in Massachusetts and beyond! MassVet News features updates, insights, and general interest columns for people at all stages of their career.
Publication schedule for print and e-news: (payment and submission deadlines in parentheses)
February (January 5)
April (March 5)
June (May 5)
August (July 5)
October (Sept 5)
December (Nov 5)
---